Already in the 2022 season, Gunsails proudly introduced the world's first windsurfing sail made from recycled materials. The RE-SEAL is built from polyester film made from recycled PET bottles replacing virgin materials in about 75% of the sail's surface. This is one of our first steps into a new direction and where to demonstrate the well known Gunsails durability best, then within our core Wave sail. As we replace our regular materials with a recycled alternative we use approximately 10 post consumer bottles per square meter and can save 400g of CO2 emissions. We will continue to develop material alternatives together with our suppliers in order to constantly reduce virgin plastic getting us closer to the long time goal of a circular economy production.
THE 2023 RE-SAIL COLLECTION
After an outstanding feedback to our recycled sail construction, we have extended the RE- range by two more models for the current season.
For 2023, the RE-SEAL is now accompanied by the RE-TORRO and the RE-ZOOM.
RE-SEAL
Core Wave Sail
Fancy radical wave maneuvers or extreme strong wind conditions? Thanks to the large wind range, the 4-batten Core Wave sail can offer both and convinces with its playful handling with just the right mix of drive and neutrality: The SEAL pulls through the turns with momentum and switches to neutral in a flash when riding the wave.
RE-TORRO
All Terrain Freemove Sail
Relaxed freeriding, freestyle moves or some wave riding? The answer is always the freemove sail TORRO. The all-rounder among our sails impresses with early planing, perfect maneuver handling and top speed. With its unbeatable versatility, wide range of use and broad wind range, the TORRO embodies the ultimate all-round sail.
RE-ZOOM
No Cam Freeride Sail
The ZOOM offers you everything you need for your next freeride session: uncomplicated setup, direct planing, effortless acceleration and unforgettable jibing pleasure. The camberless freerider is optimally balanced for any wind range and thus absolutely versatile. This plug&play sail stands for uncomplicated windsurfing.
DISCOVER THE RE-SAIL COLLECTION IN ACTION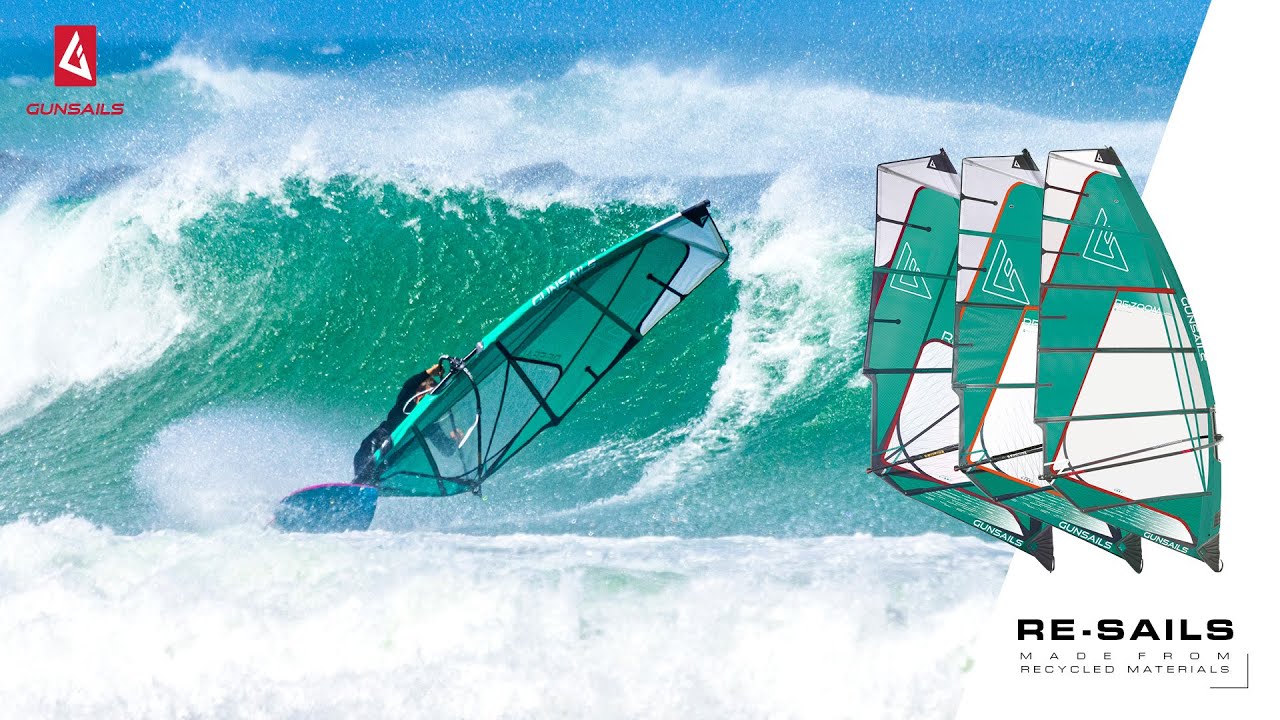 ▶
A Youtube video is embedded at this point. Since we take data protection seriously, we have hidden this due to your cookie settings. You can find more details in our privacy policy. Please agree to marketing cookies to see this content.
"I am proud to hold the world's first recycled windsurfing sail in my hands and I have already demonstrated and proven its durability and performance in the gnarliest wave conditions"
Flo Jung
Professional Windsurfer / G-213
TESTED BY SURF MAGAZIN
surf conclusion: Whether in the Ijsselmeer Chop, during a jump session on the Baltic Sea or in thick ocean waves - the Seal is ready for all outrages and recommends itself with power, easy handling and large wind range for a maximum target group.
The RE-SEAL is a milestone on our path to sustainability. From now on, let´s RE-THINK!
The RE-SEAL is just one of the latest eco-friendly innovations from GUNSAILS. Learn more about our RE-THINK products.